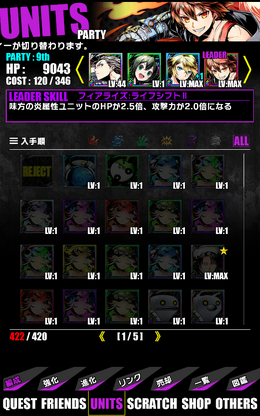 And here is the Unit section! Probably where you will visit the most along with the Quest section. The top section displays your currently active party. You can have a maximum of seven parties.
HP - The total HP of your party before Leader Skills are accounted for. 
Cost - Total cost of your party. Exceeding your max cost will render you unable to use the party.
Leader Skill - The Leader Skill of the assigned leader of the team being displayed.
Below that are options that lead you to:
編成 (Party) - Here you can change the units in your parties.
強化 (Level Up) - Here you can level up your units.
進化 (Evolve) - Here you can evolve certain units.
リンク (Link) - Here you can link units to other ones.
売却 (Sell) - Here you can sell units.
一覧 (Unit List) - This displays the list of all the units you currently have.
図鑑 (Catalog) - This displays all the Units you have seen. A box with a ? means you have not seen it. A greyed image means you have have encountered the unit but have never had it yourself.  A clear image of the unit means you have it or have had it before. If you tap on a unit in the Catalog you will be able to see its initial stats.