Upon selecting Quest at the bottom of the screen you will be brought to this page. It may or may not look like this one, but it should be similar. This is where you select the stage you wish to enter.
The Story (ストーリー) quests are for story progression. They consume stamina and reward you with coins, exp, and a chip when you complete the whole area. These stages start out with one floor quests and go up in number as you continue through the story.
The second quests are Event (イベント) quests "Descend" dungeons, Daily specific dungeons, and general special events are placed here. Most of the descend dungeons here are difficult and may require research before attempting.
The third quests are Collaboration (コラボ) quests. There are quests that feature characters from anime, video games, and other media. Like most event quests, collaboration quests are only up for a limited time.
The fourth tab are Key Quests (キークエスト), they are similar to VIP areas, in order to enter a key quest you need a certain number of Quest Keys. Quest Keys can can be obtained from clearing missions and quests, floor bonuses etc.
The fifth tab Missions (ミッション) shows the Mission Menu, where you can see on-going or completed Missions, and claim your rewards.
The sixth tab Items (アイテム) is where you can view and use your consumption items.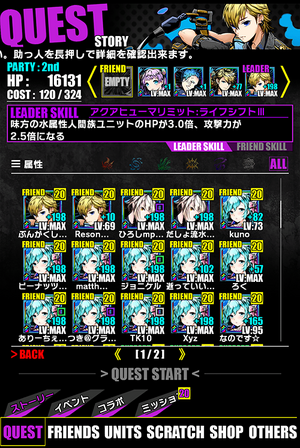 When you have chosen a quest and selected "Friend Select", you will be brought to this page. Here you select your final ally. You can either select someone from your friend list and receive 20 points or you can select someone random who is classified as support and receive 5 points. It is recommended to have your ally match with your party for good synergy. Also, your ally does NOT add to the cost. 
After you have selected your final ally you can see your party stats and all their skills. It displays your HP, and the cost of your cards. Below that you can tap Leader Skill to see the skill of your Leader. Friend Skill shows the skills that your ally has.
After you finalized everything tap on Quest Start and head in.