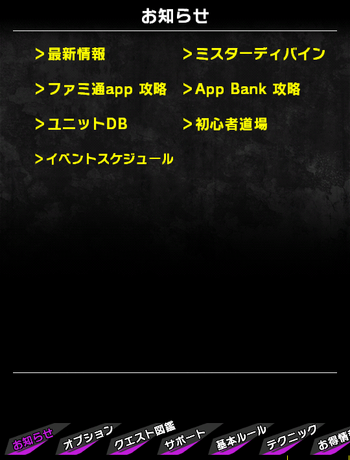 This is the Others section. You can find a lot of information here.
The first tab is the お知らせ (News) one.
最新情報 (Latest News) - Link to the official news page.
ミスターディバイン (Mister Divine) - Link to the official Twitter PR account.
ファミ通app 攻略 (Famitsuapp Game Tips) - Link to the Famitsuapp's game guide. Also has the 4koma.
App Bank 攻略 (App Bank Game Tips) - Link to the App Bank's game guide
ユニットDB (Unit Database) - The official unit database.
初心者道場 (Beginners' Training) - Several informations for new players.
イベントスケジュール (Event Schedule) - Shows which events are currently running, and which ones will be coming next.

お知らせ (News) - The main information page with links to official websites.
オプション (Options) - You can turn BGM (Background Music, SE (Sound Effects), and Guide (In-game help) on or off.
クエスト図鑑 (Quest Catalog) - Details of the quests you've cleared so far.
サポート (Support) - It displays your ID and contains a button that directs you to the help section of the official site.
基本ルール (Basic Rules), テクニック (Technical), お得情報 (Useful Information) - Game info, such as how to play, game mechanics, etc.

名前変更 (Rename) - Change your ingame name.
購入履歴 (Tip Check) - Purchase history for chips (free and paid.)
クレジット (Credit) - Game credits.
ライセンス (Licence) - License information.
タイトルへ (Title) - Tapping on this button takes you back to the title screen.

アプリ終了 (End Appli) - Quits the game.
データ削除 (Reset) - Resets your game data.
規約/その他 (Agreement/Others) - Privacy policy and other rules.
(Android) バックアップ (Backup) - Use your Google account to make a backup of your game data.
ユーザー実績 (User Achievements) - Shows your achievements and leaderboards.
プッシュ通知 (Notification) - Choose on which occasion you would like to receive a notification.