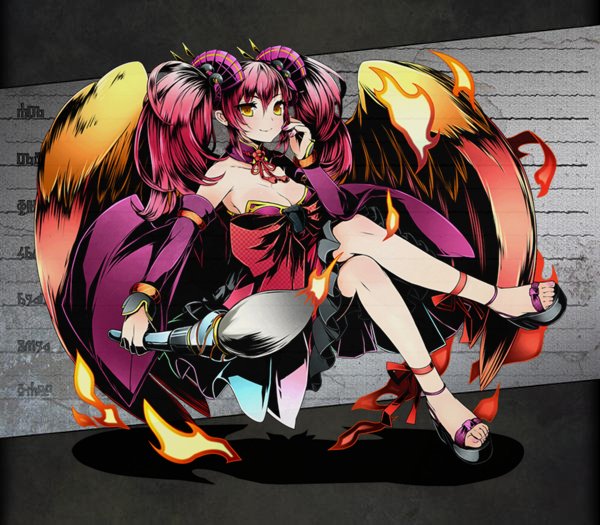 Unit

Name

Flame Flower Beast Kiri
Attribute
Fire
Cost
20
No.
708
Rarity
★6
Race
Beast
Max Lv
99
Basic Stats

Initial HP

1160

Final HP

1544
Exp Type
Type 4
Exp Curve
3500000
Initial ATK
840
Final ATK
1512
Fodder Exp
Lv.*1750
Price
Lv.*650
Skills
Leader Skill
Name
Light to Fire
Effect
All Light panels automatically become Fire Panels.
Active Skill
Name
Phoenix on Kiri
Default Cooldown
40
Min Cooldown
25
Effect
Deal Fire type damage equal to 15x user's ATK to all enemies. Affected by enemy element and defense.
Normal Skill 1
Name
Shiwasu: Nishiki
Activation
Effect
Fire damage to a single enemy.
(1.6x ATK)
Normal Skill 2
Name
Activation
Effect
Passive Skill
Name
Trap Cancel: Scene IV
Effect
Cancels all scene traps up to Lv.4.
How to Obtain
Friend Scratch
No
Rare Scratch
No
Other
Evolved from Kiri
Dungeon
Evolution
Friend Race
Friend Level
Friend Element
Evolution Quest
Link Bonus
Min Lv.: HP+42 ATK+84


Max Lv.: HP+162 ATK+325

Link Race Bonus
HP+250 Critical ATK+10%
Link Skill
{{{link skill}}}
Link Passive
Link Panel Down: Light
Decreases Light panels' appearance rate by 10%.
Link Material
Link Cost as Base Unit
114974
Unlink Cost as Base Unit
6898
Story
庭園の縁側、戦いを終えた炎花獣キリは皆をおもてなし。饅頭頬張る自律兵器に、猫飯に夢中な拘束獣、ふわふわ乙女。そうか、友の為か。少年が口にしたのは共に聖なる扉を目指し、そして今は別々の道を歩む五人の友達の話だった。我も久しぶりに精霊王達に会いたいぞ。三人は少しの間、思い出を語らっていた。
In the garden's veranda, Flame Flower Beast, Kiri welcomed everyone after the fight. The autonomous weapon filled her mouth with manju, the imprisoned beast was engrossed in cat food, and the maiden floated in the air. "Right, so it's for your friend's sake?" It was about the teenager aiming for the Divine Gate, and his five friends who walked on a different path. "I'd like to see the other Fairy Queens after such a long time too." For a short moment, the three talked about their memories.
---
Ad blocker interference detected!
Wikia is a free-to-use site that makes money from advertising. We have a modified experience for viewers using ad blockers

Wikia is not accessible if you've made further modifications. Remove the custom ad blocker rule(s) and the page will load as expected.