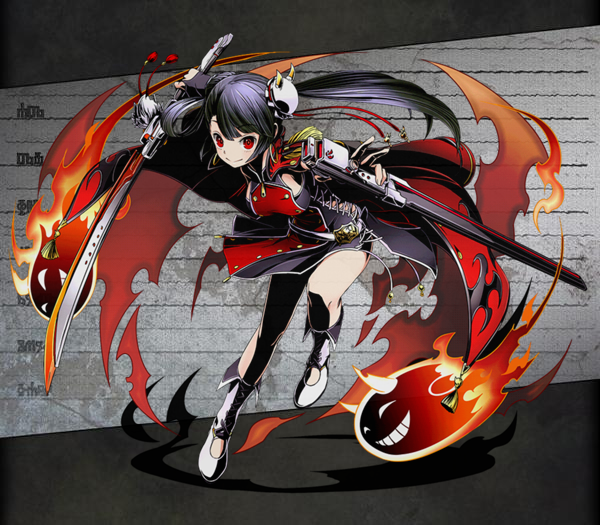 Unit

Name

Himedzuru, the Fire Demon General
Attribute
Fire
Cost
25
No.
628
Rarity
★6
Race
Demon
Max Lv
99
Basic Stats

Initial HP

961

Final HP

3084
Exp Type
Type 5
Exp Curve
5000000
Initial ATK
673
Final ATK
2020
Fodder Exp
Lv.*630
Price
Lv.*420
Skills
Leader Skill
Name
Demon Rise: Assault III
Effect
2.5x ATK for Demon type units.
Active Skill
Name
Left Three: Fire
Default Cooldown
19
Min Cooldown
11
Effect
Turns the first three panels from the left into Fire Panels.
Normal Skill 1
Name
Himedzuru: Nishiki
Activation
Effect
Large Fire damage to a single enemy.
(2.3x ATK)
Normal Skill 2
Name
Activation
Effect
Passive Skill
Name
Full Life: Attack 250
Effect
At maximum HP attack power is increased by 2.5x
How to Obtain
Friend Scratch
No
Rare Scratch
No
Other
Evolved from Himedzuru
Dungeon
Evolution
Friend Race
Friend Level
Friend Element
Evolution Quest
Link Bonus
Min Lv.: HP+43 ATK+86


Max Lv.: HP+166 ATK+333

Link Race Bonus
ATK+10%
Link Skill
{{{link skill}}}
Link Passive
Link Full Life: Attack Ⅱ
At maximum HP attack power is increased by 1.2x.
Link Material
Link Cost as Base Unit
142968
Unlink Cost as Base Unit
8578
Story
赤い月の昇る夜、不夜城の女王の間、そこには懐かしい友の姿があった。一人は赤き女王に、一人は炎の魔将に、各々の道を進んだ少女達の再会。集まった六魔将、そして戻ったばかりの六色の女王を前に幻奏者は告げる。幼き魔女王に代わり、この魔界<へリスティア>を統べる新たな女王の名を、常闇の死神の名前を。
On the night where the red moon rises,in the Queen's Hall of Nightless City appeared a nostalgic figure of a friend. It was a reunion between young girls who each went their own way, the Red Empress and the Fire Demon General. The Illusionist announced in front of the six demon generals gathered, and the six empresses who had just returned. That instead of the young Demon Queen, a new queen would be in control of the Demon World <Hellistia>, a death god of everlasting darkness.
---
Ad blocker interference detected!
Wikia is a free-to-use site that makes money from advertising. We have a modified experience for viewers using ad blockers

Wikia is not accessible if you've made further modifications. Remove the custom ad blocker rule(s) and the page will load as expected.