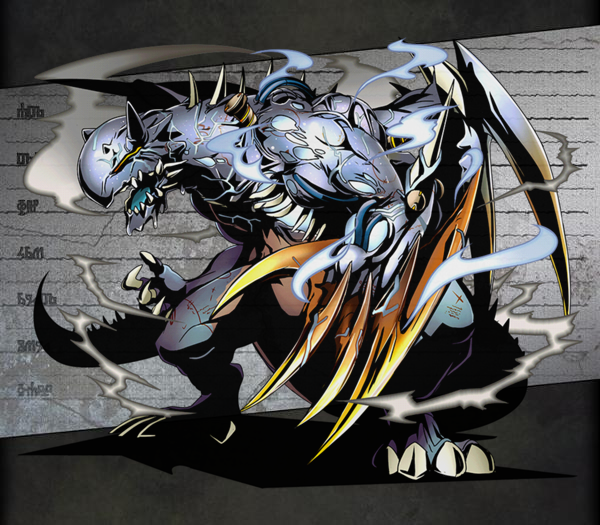 Unit

Name

Nitro, the Compound Dragon
Attribute
Void
Cost
70
No.
532
Rarity
★6
Race
Dragon
Max Lv
50
Basic Stats

Initial HP

1210

Final HP

3412
Exp Type
Type Compound Dragon b
Exp Curve
5000000
Initial ATK
1228
Final ATK
3124
Fodder Exp
Lv*630
Price
Lv*200
Skills
Leader Skill
Name
Effect
Active Skill
Name
Default Cooldown
Min Cooldown
Effect
Normal Skill 1
Name
Nitro Fang
Activation
Effect
Void damage to a single enemy.
(1.6x ATK)
Normal Skill 2
Name
Nitro Claw
Activation
Effect
Large Void damage to a single enemy.
(2.3x ATK)
Passive Skill
Name
Effect
How to Obtain
Friend Scratch
No
Rare Scratch
No
Other
Evolved from Nitro
Dungeon
Evolution
Friend Race
Friend Level
Friend Element
Evolution Quest
Link Bonus
Min Lv.: HP+105 ATK+78


Max Lv.: HP+404 ATK+303

Link Race Bonus
BOOST ATK+15%
Link Skill
{{{link skill}}}
Link Passive
Link Chain: None
1.0x follow up Void damage to all enemies.
Link Material
Link Cost as Base Unit
394910
Unlink Cost as Base Unit
23694
Story
投与され続けた化合物でさえその体内に取り込み、成長を続けたニトロは化合竜へと進化を遂げた。その身体がどのような要素で成り立っているのか、どのような過程で成長を遂げたのか、それらの経過を書き記す暇もなく、続けられた投与実験。この研究が終わりを迎える時には、この研究所も終わりを迎えていた。
Absorbing even the chemicals it had been continuously showered with, Nitro continued its growth and developed into a Chemical Dragon. With their hands too full to record its body make-up or growth process, the scientists frantically continued their application trials. These trials would not cease until the research institute itself had also met its end.
---
Ad blocker interference detected!
Wikia is a free-to-use site that makes money from advertising. We have a modified experience for viewers using ad blockers

Wikia is not accessible if you've made further modifications. Remove the custom ad blocker rule(s) and the page will load as expected.