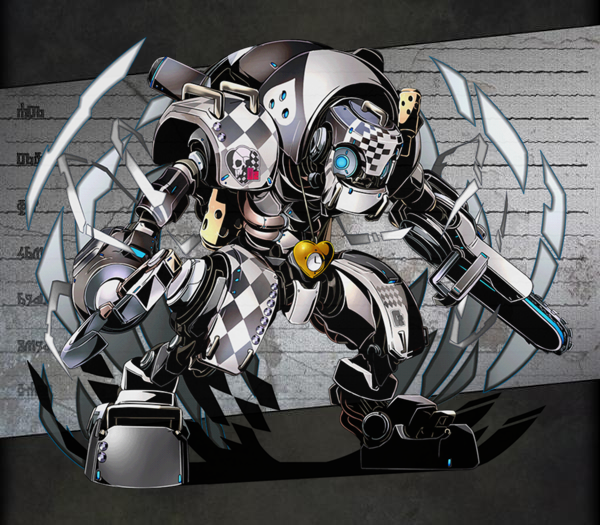 Unit

Name

Tin Woodman, the Clown Machine
Attribute
Void
Cost
25
No.
484
Rarity
★6
Race
Machine
Max Lv
99
Basic Stats

Initial HP

1260

Final HP

3780
Exp Type
Type 5
Exp Curve
5000000
Initial ATK
689
Final ATK
2116
Fodder Exp
Lv.*630
Price
Lv.*420
Skills
Leader Skill
Name
None Machine Rise: Assault III
Effect
2.5x ATK to Void or Machine units.
Active Skill
Name
All-less: None
Default Cooldown
21
Min Cooldown
10
Effect
Turns all panels into Void panels.
Normal Skill 1
Name
None Live
Activation
Effect
Large Void damage to a single enemy.
(2.3x ATK)
Normal Skill 2
Name
Junk Shoot
Activation
Effect
Super Extra Large Void damage to all enemies.
(2.8x ATK)
Passive Skill
Name
Effect
How to Obtain
Friend Scratch
No
Rare Scratch
No
Other
Evolved from Tin Woodman
Dungeon
Evolution
Friend Race
Friend Level
Friend Element
Evolution Quest
Link Bonus
Min Lv.: HP+86 ATK+64


Max Lv.: HP+333 ATK+250

Link Race Bonus
ATK+5% BOOST ATK+7.5%
Link Skill
{{{link skill}}}
Link Passive
Link Panel Up: None II
Increases Void panels' appearance rate by 10%
Link Material
Link Cost as Base Unit
142968
Unlink Cost as Base Unit
8578
Story
進化することのない第一世代自立型ドライバは、道化の魔法使いにより新たな力が与えられ、道化嬢により装飾が施された。そして道化機【ブリキ】は自分を永遠の眠りから解き放ってくれた主人の為に稼動する。種族を越えた主従関係、それは機械ながらに感じた家族の温もりであり、そしてまた、異常事態でもあった。
As it was impossible for a First Generation Independent Driver to evolve, the Clown Wizard gave it new powers, and the Clown Lady decorated it with accessories. Tin Woodman, the Clown Machine, moves for the sake of its master who awakened it from its eternal sleep. A master-servant relationship that has overcome races; that was the warmth of a family even the machine could feel, though that itself was an abnormality.
---
Ad blocker interference detected!
Wikia is a free-to-use site that makes money from advertising. We have a modified experience for viewers using ad blockers

Wikia is not accessible if you've made further modifications. Remove the custom ad blocker rule(s) and the page will load as expected.