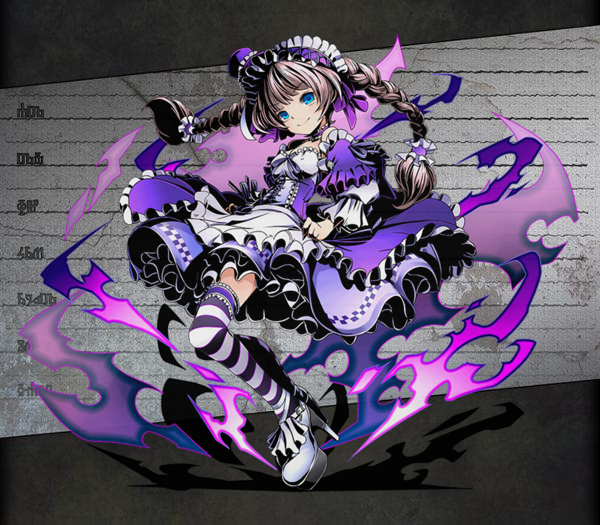 Unit

Name

Dorothy, the Clown Lady
Attribute
Dark
Cost
25
No.
482
Rarity
★6
Race
Human
Max Lv
99
Basic Stats

Initial HP

1183

Final HP

3750
Exp Type
Type 5
Exp Curve
5000000
Initial ATK
621
Final ATK
2062
Fodder Exp
Lv.*630
Price
Lv.*420
Skills
Leader Skill
Name
Dark Human Rise: Assault Shift +
Effect
1.5x HP/2.5x ATK to Human or Dark units.
Active Skill
Name
All-less: Dark
Default Cooldown
21
Min Cooldown
10
Effect
Turns all panels into Dark panels.
Normal Skill 1
Name
Dark Stage
Activation
Effect
Dark damage to a single enemy. (CRT+ 16%)
(1.6x ATK)
Normal Skill 2
Name
Fairytale Pain
Activation
Effect
Heals 15% of HP.
Passive Skill
Name
Effect
How to Obtain
Friend Scratch
No
Rare Scratch
No
Other
Evolved from Dorothy
Dungeon
Evolution
Friend Race
Friend Level
Friend Element
Evolution Quest
Link Bonus
Min Lv.: HP+0 ATK+108


Max Lv.: HP+0 ATK+416

Link Race Bonus
HP+250 ATK+5%
Link Skill
{{{link skill}}}
Link Passive
Link Panel Up: Dark II
Increases Dark panels' appearance rate by 10%
Link Material
Link Cost as Base Unit
142968
Unlink Cost as Base Unit
8578
Story
道化の魔法使いと行動を共にする彼女にはもう、恐れるものなどなかった。生まれ変わった自分なら、今の自分ならきっとアイツに負けることもないと。道化嬢ドロシーにとって、吹きすさぶ風はみな追い風。だが、彼女は気づいていなかった。いつまでも一人の少女に囚われたままでいる事に。晴れ、ときどき、竜巻。
Moving along with the Clown Wizard, she no longer had any fear. "If it's the present me, there's no way I would lose to that person." To Dorothy, the Clown Lady, all raging winds were tailwinds. However, she didn't realize that she would forever be imprisoned by a young girl. Sunny, and sometimes, a cyclone.
---
Ad blocker interference detected!
Wikia is a free-to-use site that makes money from advertising. We have a modified experience for viewers using ad blockers

Wikia is not accessible if you've made further modifications. Remove the custom ad blocker rule(s) and the page will load as expected.