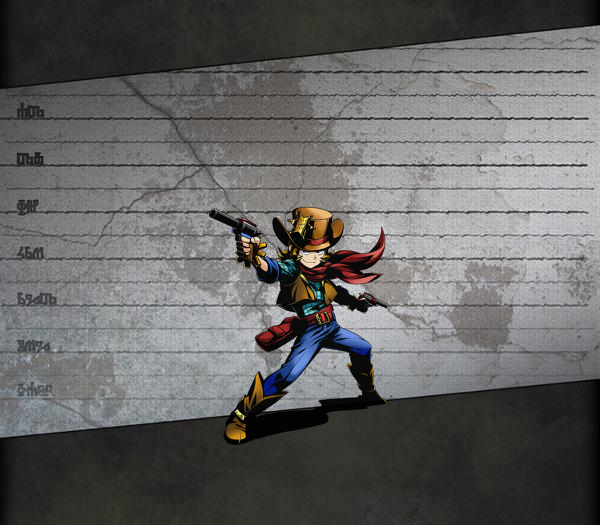 Unit

Name

Gunman
Attribute
Wind
Cost
20
No.
455
Rarity
★4
Race
Human
Max Lv
99
Basic Stats

Initial HP

1078

Final HP

2473
Exp Type
Type 3c
Exp Curve
779937
Initial ATK
729
Final ATK
1705
Fodder Exp
Lv*275
Price
Lv*230
Skills
Leader Skill
Name
Western Spirit
Effect
15x follow up Wind damage to all enemies.
Active Skill
Name
Thousand Shot
Default Cooldown
10
Min Cooldown
5
Effect
Deal 10000 void fixed damage to all enemies.
Normal Skill 1
Name
Quick Draw
Activation
Effect
Wind damage to a single enemy.
(1.6x ATK)
Normal Skill 2
Name
Horse Shot
Activation
Effect
Extra Large Wind damage to all enemies.(CRT+12%)
(2.5x ATK)
Passive Skill
Name
Effect
How to Obtain
Friend Scratch
No
Rare Scratch
No
Other
Evolved from Umasuku
Dungeon
Evolution
Friend Race
Friend Level
Friend Element
Evolution Quest
Link Bonus
Min Lv.: HP+92 ATK+30


Max Lv.: HP+357 ATK+119

Link Race Bonus
HP+200 ATK+4%
Link Skill
{{{link skill}}}
Link Passive
Link Panel Up: Wind Ⅱ
Increases Wind panel appearance rate by 10%.
Link Material
Link Cost as Base Unit
11875
Unlink Cost as Base Unit
593
Story
スイーツの山に歓喜する姫を横目に、兵士達はモンスター達に囲まれていたことに気付く。無数のモンスター達を前に、二丁の拳銃を手にしたガンマンがニヤリと笑う。戸惑う兵士達を他所に、口笛と共に拳銃へと弾丸を込める。そして彼は姫に背中を向け、宣言する。千の弾丸を、漏れなく奴らに撃ち込んでやると。
When the Princess followed her delight to Sweets Mountain, the soldiers noticed that they have been surrounded by monsters. Beyond these monsters, the Gunslinger appeared with dual pistols. The soldiers had no idea, as he whistled, slotting in a bullet in the pistol. Ready for action, he turned his back to the Princess. A Thousand Shots, as that'll ought to blow em' all up.
---
Ad blocker interference detected!
Wikia is a free-to-use site that makes money from advertising. We have a modified experience for viewers using ad blockers

Wikia is not accessible if you've made further modifications. Remove the custom ad blocker rule(s) and the page will load as expected.