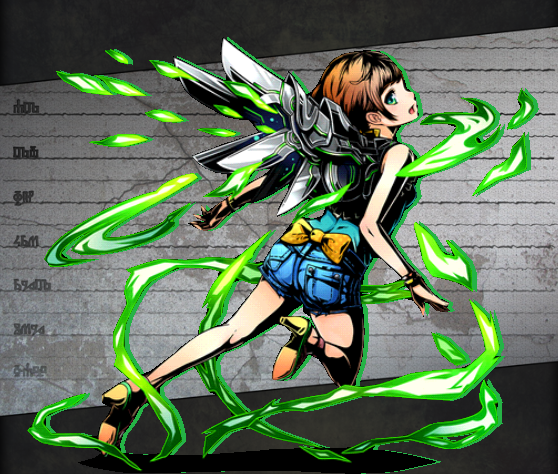 Unit

Name

Laplace, the Wind Genius
Attribute
Wind
Cost
25
No.
349
Rarity
★6
Race
Fairy
Max Lv
99
Basic Stats

Initial HP

1148

Final HP

3075
Exp Type
Type 5
Exp Curve
5000000
Initial ATK
919
Final ATK
2661
Fodder Exp
Lv.*650
Price
Lv.*450
Skills
Leader Skill
Name
Theory of Wind
Effect
All Water panels automatically become Wind Panels
Active Skill
Name
Strong: Wind
Default Cooldown
27
Min Cooldown
18
Effect
Attacks from Wind type units are 1.5x stronger for one turn.
Normal Skill 1
Name
Diable Ailes
Activation
Effect
Wind damage to a single enemy.
(1.6x ATK)
Normal Skill 2
Name
Laplace's Geist
Activation
Effect
Immense Wind damage to all enemies.
(3.0x ATK)
Passive Skill
Name
Effect
How to Obtain
Friend Scratch
No
Rare Scratch
No
Other
Evolved from Laplace
Dungeon
Evolution
Friend Race
Friend Level
Friend Element
Evolution Quest
Any
Lv.40+
Wind
Trial of Wind: Holy Class (風の試練: 聖級)
Link Bonus
Min Lv.: HP+129 ATK+43


Max Lv.: HP+500 ATK+166

Link Race Bonus
HP+500
Link Skill
{{{link skill}}}
Link Passive
Link Panel Down: Aqua II
Decreases Water Panels' appearance rate by 20%.
Link Material
Link Cost as Base Unit
142968
Unlink Cost as Base Unit
8578
Story
風の妖精達が立て続けに行方をくらませていた。 そして、その裏で噂をされたひとりの少女。 全ての記録から抹消されたひとつの名前、それは昔、有り余る才能が危険分子認定され、不遇にも追放を余儀なくされた悲劇の少女の名前。 妖精は、時として悪魔になる。 風才ラプラスは【ディアブル・エール】で天界を翔けた。
One by one, the wind fairies hid themselves and disappeared from view. In the shadows, rumours spread of a young girl. A name erased from all records, that of a pitiable girl of the past who was categorized as a threat and subsequently banished for her incredible talent. Fairies will, on occasion, become demons. The wind genius Laplace traversed the Sky World on the wings of [Diable Ailes].
---
Ad blocker interference detected!
Wikia is a free-to-use site that makes money from advertising. We have a modified experience for viewers using ad blockers

Wikia is not accessible if you've made further modifications. Remove the custom ad blocker rule(s) and the page will load as expected.