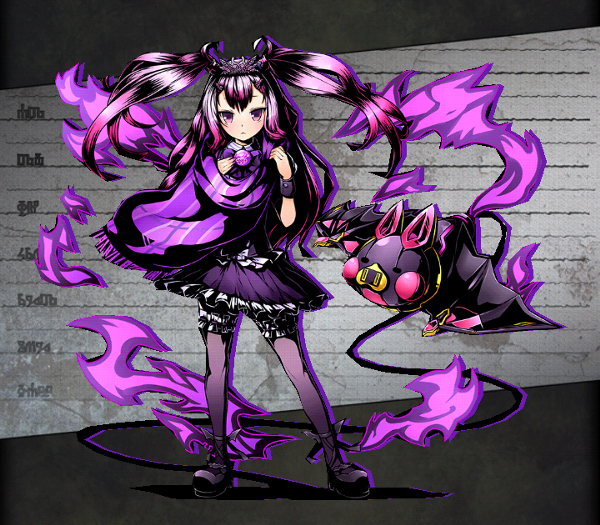 Unit

Name

Walpurgis
Attribute
Dark
Cost
40
No.
342
Rarity
★5
Race
Demon
Max Lv
50
Basic Stats

Initial HP

343

Final HP

1788
Exp Type
Type 5
Exp Curve
883884
Initial ATK
258
Final ATK
988
Fodder Exp
Lv.*1500
Price
Lv.*750
Skills
Leader Skill
Name
Demon Rise: Assault II
Effect
2x ATK to Demon type units.
Active Skill
Name
Volbriöö
Default Cooldown
35
Min Cooldown
15
Effect
Deal Dark type damage equal to 10x user's ATK to all enemies, and recover amount dealt as HP. Affected by enemy element and defense.
Normal Skill 1
Name
Sabbath
Activation
Effect
Small Dark damage to a single enemy.
(1.0x ATK)
Normal Skill 2
Name
Activation
Effect
Passive Skill
Name
Counter: Sabbath
Effect
50% of damage received is always dealt back in Dark attribute damage.
How to Obtain
Friend Scratch
No
Rare Scratch
No
Other
Dungeon Drop
Dungeon
Nightless Nightmare
Evolution
Friend Race
Friend Level
Friend Element
Evolution Quest
Any
Lv.35+
Dark
Trial of Darkness: Legend (闇の試練: 神級)
Link Bonus
Min Lv.: HP+0 ATK+87


Max Lv.: HP+0 ATK+212

Link Race Bonus
ATK+8%
Link Skill
{{{link skill}}}
Link Passive
{{{link passive}}}
Link Material
Link Cost as Base Unit
21250
Unlink Cost as Base Unit
1062
Story
ねぇ、どこにいるの。私をひとりにしないで。ずっと一緒だよって、約束したじゃない。魔界の最果ての地、初めての友達を探して彷徨う少女がひとり。友達とお揃いの、紫色したストールを握りしめて。出会いは突然に、そして、別れも突然に。ヴァルプルギスは【サヴァト】と共に、初めての友達を探し続けていた。
"Hey, where are you? Don't leave me alone. Didn't you promise, that we would be together forever?" At the farthest end of the Demon World, a girl wanders alone looking for her first friend. She clutches her purple shawl, identical to her friend's. Their encounter was sudden, and their farewell too was sudden. Walpurgis together with 【Sabbath】, keeps on looking for her first friend.
Trivia
She ranked 18th, 24th, 44th, and 39th in the 2nd, 3rd, 5th, and 6th official Divine Gate popularity polls.
Her favorite food is Yōkan[1].
Although she does not share the same parents with Vlad, she does have blood relations with him.
↑

A thick, jellied dessert made of red bean paste, agar, and sugar.
Gallery
---
Ad blocker interference detected!
Wikia is a free-to-use site that makes money from advertising. We have a modified experience for viewers using ad blockers

Wikia is not accessible if you've made further modifications. Remove the custom ad blocker rule(s) and the page will load as expected.