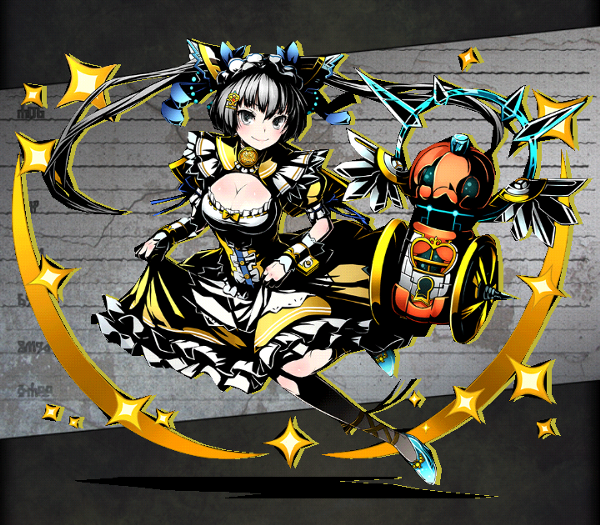 Unit

Name

Cinderella, the Yellow Empress
Attribute
Light
Cost
20
No.
266
Rarity
★6
Race
Demon
Max Lv
99
Basic Stats

Initial HP

1408

Final HP

2515
Exp Type
Type 5
Exp Curve
5000000
Initial ATK
470
Final ATK
1428
Fodder Exp
Lv.*1750
Price
Lv.*650
Skills
Leader Skill
Name
Demon Rise: Assault II
Effect
2x ATK to Demon units.
Active Skill
Name
The Story
Default Cooldown
53
Min Cooldown
35
Effect
Decreases the enemies' current HP by 15%.
Normal Skill 1
Name
Twelve Zero
Activation
Effect
Light Damage to a single enemy.
(1.6x ATK)
Normal Skill 2
Name
Activation
Effect
Passive Skill
Name
Counter: Light V
Effect
In rare cases (Trigger Rate:18%), 50% of damage received is dealt back in Light damage.
How to Obtain
Friend Scratch
No
Rare Scratch
No
Other
Evolved from Cinderella
Dungeon
Evolution
Friend Race
Friend Level
Friend Element
Evolution Quest
Link Bonus
Min Lv.: HP+168 ATK+21


Max Lv.: HP+651 ATK+81

Link Race Bonus
ATK+10%
Link Skill
{{{link skill}}}
Link Passive
Link Counter: Light
In rare cases (Trigger Rate:10%),
50% of damage received is dealt back in Light damage.
Link Material
Link Cost as Base Unit
114974
Unlink Cost as Base Unit
6898
Story
12時の鐘が鳴り響き、舞台の幕は降ろされる。けれどひとり、置き去りの少女。それはガラスの靴に選ばれし新たな王。降ろされた幕は再び開かれる。新たな時代の、黄の女王シンデレラの時代の幕開け。12は0へと意味を変え、【トゥエルブ・ゼロ】と共に新しい時代を。華麗な夜、女王は舞台の階段を下り始める。
The clock struck twelve, the curtains lowered. A young girl was left on stage. The new queen was elected because of her glass slippers. The curtains rose again. A new era, the era of Cinderella, the Yellow Empress has begun. 12 becomes 0, and together with [Twelve-Zero] she starts a new age. In this gorgeous night, the queen descended the stairs.
---
Ad blocker interference detected!
Wikia is a free-to-use site that makes money from advertising. We have a modified experience for viewers using ad blockers

Wikia is not accessible if you've made further modifications. Remove the custom ad blocker rule(s) and the page will load as expected.