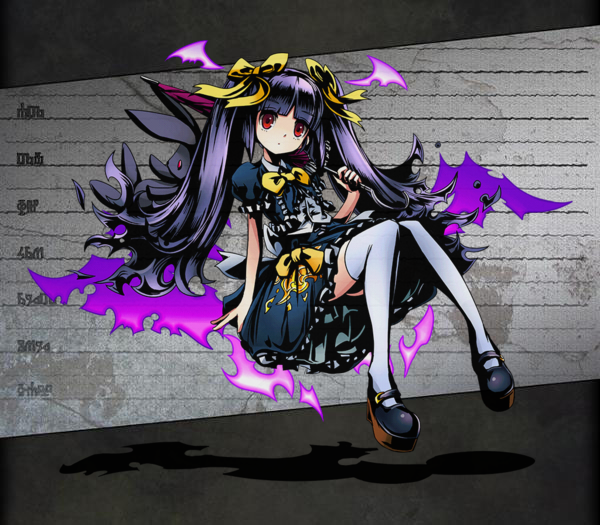 Unit

Name

Shadow
Attribute
Dark
Cost
15
No.
153
Rarity
★5
Race
Fairy/Demon
Max Lv
50
Basic Stats

Initial HP

324

Final HP

1432
Exp Type
Type 5
Exp Curve
883884
Initial ATK
289
Final ATK
869
Fodder Exp
Lv.*500
Price
Lv.*250
Skills
Leader Skill
Name
Dark Rise: Shift
Effect
1.5x HP/ATK to Dark type units.
Active Skill
Name
Celes Demon
Default Cooldown
17
Min Cooldown
12
Effect
Deal Dark type damage equal to 12x user's ATK to a single enemy, and recover amount dealt as HP. Affected by enemy element and defense.
Normal Skill 1
Name
Dark: Origin
Activation
Effect
Small Dark damage to a single enemy.
(1.0x ATK)
Normal Skill 2
Name
Full Dark: Origin
Activation
Effect
Super Extra Large Dark damage to all enemies.
(2.8x ATK)
Passive Skill
Name
Effect
How to Obtain
Friend Scratch
No
Rare Scratch
Yes
Other
Dungeon Drop
Dungeon
Byakko Castle Q1 Boss (Low Drop Rate: 1/10000)
Evolution
Friend Race
Friend Level
Friend Element
Evolution Quest
Any
Lv.35+
Dark
Trial of Dark : Legend
Link Bonus
Min Lv.: HP+0 ATK+74


Max Lv.: HP+0 ATK+181

Link Race Bonus
HP+240 ATK+4.8%
Link Skill
{{{link skill}}}
Link Passive
{{{link passive}}}
Link Material
Link Cost as Base Unit
9531
Unlink Cost as Base Unit
476
Story
魔界<ヘリスティア>へと初めて堕ちた存在、闇を司る大精霊シャドウ。一度堕ちた存在だからこそ、闇の起源<オリジン>となり、そして産まれた闇の力。誰よりも深い悲しみを知る彼女は、皆が安らげるよう、安心して眠れるようにと、優しい夜を生みだした。その夜は、やがて訪れる堕ちた鎌士を癒せるのだろうか。
The first being to fall into the Demon World <Helestia>, the Great Spirit of Darkness, Shadow. Having already fallen once, she became the <Origin> of Darkness, giving birth to its powers. Knowing a greater sorrow than anyone else, she created a gentle, kind night in the hopes that everyone may unwind and sleep peacefully. Would this night of hers be able to heal the fallen scythe-user to come?
---
Ad blocker interference detected!
Wikia is a free-to-use site that makes money from advertising. We have a modified experience for viewers using ad blockers

Wikia is not accessible if you've made further modifications. Remove the custom ad blocker rule(s) and the page will load as expected.