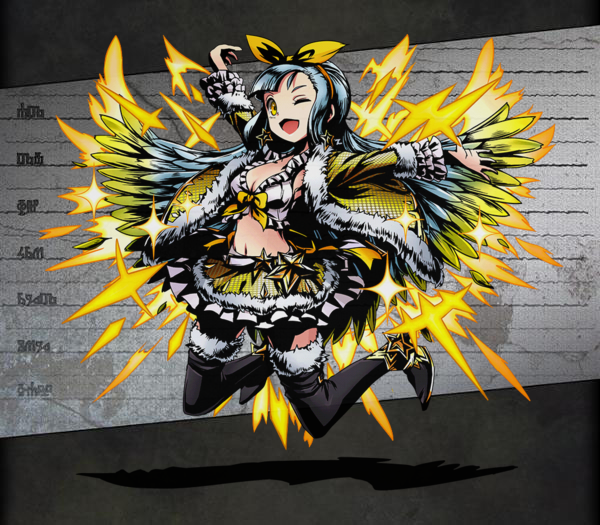 Unit

Name

Will-o'-wisp, Queen of Light Fairies
Attribute
Light
Cost
20
No.
152
Rarity
★6
Race
Fairy
Max Lv
99
Basic Stats

Initial HP

1056

Final HP

3785
Exp Type
Type 5
Exp Curve
5000000
Initial ATK
694
Final ATK
1387
Fodder Exp
Lv.*975
Price
Lv.*430
Skills
Leader Skill
Name
Light Rise: Shift II
Effect
2x HP/ATK to Light type units.
Active Skill
Name
Celes Luminous
Default Cooldown
30
Min Cooldown
12
Effect
Heals 60% of total HP.
Normal Skill 1
Name
Light Large: Origin
Activation
Effect
Light damage to a single enemy.
(1.6x ATK)
Normal Skill 2
Name
Light Heal: Origin III
Activation
Effect
Heals 35% of total HP.
Passive Skill
Name
Effect
How to Obtain
Friend Scratch
No
Rare Scratch
No
Other
Evolved from Will-o'-wisp
Dungeon
Evolution
Friend Race
Friend Level
Friend Element
Evolution Quest
Link Bonus
Min Lv.: HP+168 ATK+21


Max Lv.: HP+651 ATK+81

Link Race Bonus
HP +500
Link Skill
{{{link skill}}}
Link Passive
Link Full Life: Attack Ⅱ
At maximum HP attack power is increased by 1.2x.
Link Material
Link Cost as Base Unit
114974
Unlink Cost as Base Unit
6898
Story
自らの遺伝子を継いだ光を宿した少女の、その偽物の笑顔を輝かそうと、永遠郷<シャングリラ>へ。溢れた沢山の笑顔は皆、心からの喜びに満ちていた。辛いことがあれば泣けばいい、楽しい時だけ笑えばいい。光と光の共鳴<リンク>、取り戻した笑顔から溢れた光はウィルオウィスプを光精王へと生まれ変わらせた。
To brighten up the fake smile of the light-harboring girl who shared her blood, Will-o'-Wisp took them to the Eternal Land, <Shangri La>. The abundant, plentiful smiles there all overflowed with happiness from the heart. "When you're sad, cry. It's alright to only smile when you're happy." With the resonance <Link> of light and light, the smile regained shone upon Will-o'-Wisp, and transformed her into the Queen of Light Fairies.
---
Ad blocker interference detected!
Wikia is a free-to-use site that makes money from advertising. We have a modified experience for viewers using ad blockers

Wikia is not accessible if you've made further modifications. Remove the custom ad blocker rule(s) and the page will load as expected.