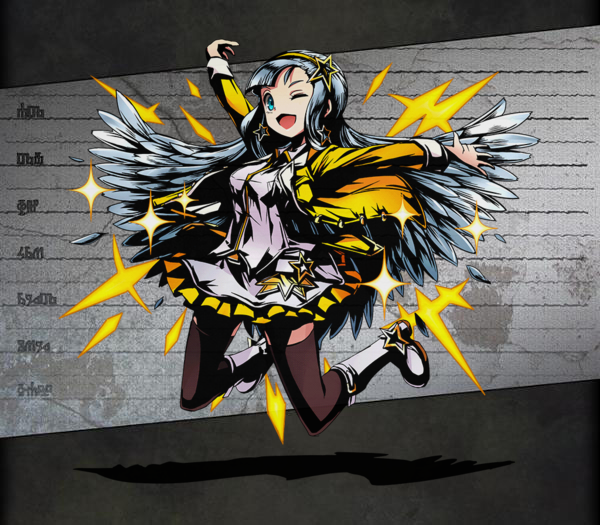 Unit

Name

Will-o'-wisp
Attribute
Light
Cost
15
No.
151
Rarity
★5
Race
Fairy
Max Lv
50
Basic Stats

Initial HP

311

Final HP

1321
Exp Type
Type 5
Exp Curve
883884
Initial ATK
231
Final ATK
773
Fodder Exp
Lv.*500
Price
Lv.*250
Skills
Leader Skill
Name
Light Rise: Shift
Effect
1.5x HP/ATK to Light type units.
Active Skill
Name
Celes Luminous
Default Cooldown
30
Min Cooldown
12
Effect
Heals 60% of total HP.
Normal Skill 1
Name
Light: Origin
Activation
Effect
Small Light damage to a single enemy.
(1.0x ATK)
Normal Skill 2
Name
Light Heal: Origin II
Activation
Effect
Heals 25% of total HP.
Passive Skill
Name
Effect
How to Obtain
Friend Scratch
No
Rare Scratch
Yes
Other
Dungeon Drop
Dungeon
Kohryu Castle Q1 Boss (Low Drop Rate: 1/10000)
Evolution
Friend Race
Friend Level
Friend Element
Evolution Quest
Any
Lv.35+
Light
Trial of Light: Legend (光の試練: 神級)
Link Bonus
Min Lv.: HP+119 ATK+14


Max Lv.: HP+290 ATK+36

Link Race Bonus
HP+400
Link Skill
{{{link skill}}}
Link Passive
{{{link passive}}}
Link Material
Link Cost as Base Unit
9531
Unlink Cost as Base Unit
476
Story
光輝く天界<セレスティア>のアイドル、光の大精霊ウィルオウィスプ。その歌声は聞くもの全ての心を明るくする。交わった世界に不安を感じる精霊達は皆、彼女の歌声を心の支えに、希望の笑顔を浮かべる。本当の笑顔を無くした剣士は、彼女の歌声で笑顔を取り戻せるのだろうか。彼女は剣士に届くように歌う。
The dazzling idol of the Sky World <Celestia>, the Great Spirit of Light Will-o'-Wisp's song brightened the hearts of all who listened. Uneasy with the merging of the worlds, the spirits strengthened their hearts with her voice, and donned hopeful smiles. Would her song be able to bring back a smile to the sword-wielder who had lost the ability to do so genuinely? She sang, so that her voice may reach her.
---
Ad blocker interference detected!
Wikia is a free-to-use site that makes money from advertising. We have a modified experience for viewers using ad blockers

Wikia is not accessible if you've made further modifications. Remove the custom ad blocker rule(s) and the page will load as expected.