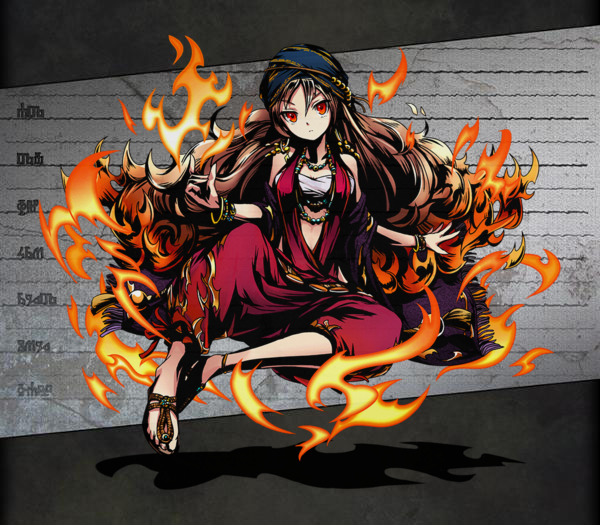 Unit

Name

Ifrit, Queen of Fire Fairies
Attribute
Fire
Cost
20
No.
146
Rarity
★6
Race
Fairy
Max Lv
99
Basic Stats

Initial HP

1267

Final HP

3071
Exp Type
Type 5
Exp Curve
5000000
Initial ATK
812
Final ATK
2160
Fodder Exp
Lv.*975
Price
Lv.*430
Skills
Leader Skill
Name
Fire Rise: Shift II
Effect
2x HP/ATK to Fire type units.
Active Skill
Name
Celes Lava
Default Cooldown
24
Min Cooldown
9
Effect
Deal Fire type damage equal to 30x user's ATK to a single enemy. Affected by enemy element and defense.
Normal Skill 1
Name
Fire Large: Origin
Activation
Effect
Large Fire damage to a single enemy.
(2.3x ATK)
Normal Skill 2
Name
Full Fire Large: Origin
Activation
Effect
Extra Large Fire damage to all enemies.
(2.5x ATK)
Passive Skill
Name
Effect
How to Obtain
Friend Scratch
No
Rare Scratch
No
Other
Evolved from Ifrit
Dungeon
Evolution
Friend Race
Friend Level
Friend Element
Evolution Quest
Link Bonus
Min Lv.: HP+42 ATK+84


Max Lv.: HP+162 ATK+325

Link Race Bonus
HP +500
Link Skill
{{{link skill}}}
Link Passive
Link Boost Up
Increases the chance of BOOST panels
A maximum of 2 may appear in battle.
Link Material
Link Cost as Base Unit
114974
Unlink Cost as Base Unit
6898
Story
炎を灯した少年との出会いが彼女を変えた。起源<オリジン>である自分の起源を知るために訪れた火想郷<アルカディア>、彼女は炎精王へと生まれ変わる。種族を超えた出会い、炎と炎の共鳴<リンク>が燃やす熱い炎。全ては審判の日の為に、自分を変えてくれた少年が愛する常界<テラスティア>を守る為に。
Meeting the burning boy changed her. To discover her own origins as an <Origin>, she visited the Fire Holy Land <Arcadia>, and was there reborn as the Queen of Fire Fairies. A meeting that transcended race, and the blazing hot inferno of a resonance <Link> of fire and flame. It was all for the Day of Judgement, and to protect the Common World <Terrastia> that the boy who had changed her loved.
---
Ad blocker interference detected!
Wikia is a free-to-use site that makes money from advertising. We have a modified experience for viewers using ad blockers

Wikia is not accessible if you've made further modifications. Remove the custom ad blocker rule(s) and the page will load as expected.