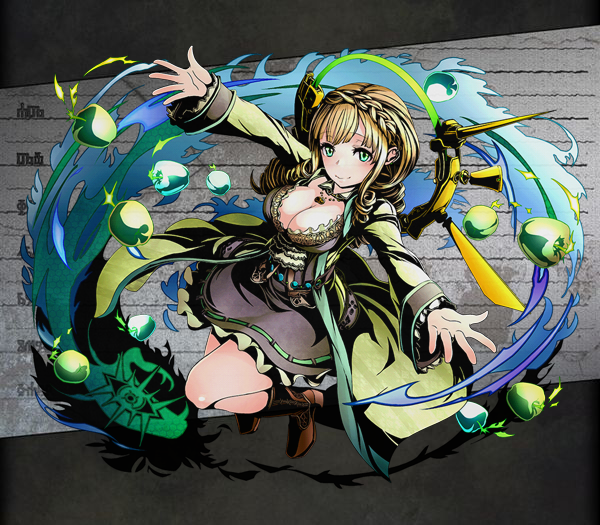 Unit

Name

East Devil Queen, Samael
Attribute
Wind
Cost
50
No.
1427
Rarity
★5
Race
Fairy/God
Max Lv
50
Basic Stats

Initial HP

1528

Final HP

3440
Exp Type
Type 5
Exp Curve
5000000
Initial ATK
674
Final ATK
1822
Fodder Exp
Lv.*630
Price
Lv.*420
Skills
Leader Skill
Name
Spirit Rise: Life V
Effect
3.5x HP to Fairy type units.
Active Skill
Name
Blighting
Default Cooldown
25
Min Cooldown
5
Effect
Changes Heal panels into Wind panels, and deals 333333 fixed damage to a single enemy.
Normal Skill 1
Name
Comp Lost Wind
Activation
Effect
Wind damage to a single enemy
(1.6x ATK)
Normal Skill 2
Name
Clarity
Activation
Effect
Large Wind damage to all enemies
(1.8x ATK)


BOOST: Deal Wind type damage equal to 50x user's ATK to a single enemy.

Passive Skill
Name
Effect
How to Obtain
Friend Scratch
No
Rare Scratch
No
Other
Evolved from Samael
Dungeon
Evolution
Friend Race
Friend Level
Friend Element
Evolution Quest
Link Bonus
Min Lv.: HP+145 ATK+48


Max Lv.: HP+559 ATK+186

Link Race Bonus
HP+300 Critical ATK+12%
Link Skill
{{{link skill}}}
Link Passive
Link Panel Up: Wind
Increases Wind panels' appearance rate by 5%.
Link Material
Link Cost as Base Unit
282936
Unlink Cost as Base Unit
16976
Story
これはね、僕と君との秘密の約束だよ。だが、頷かない堕風才。だったら、君の居場所はないよ。それは約束ではなく、一方的な脅迫。東魔王サマエル、彼女こそ四大魔王に相応しい。悲しい瞳は、深みを増した。翼をもがれ、手足まで縛られる気分はどうだい。それでも、堕風才は悲しい笑顔を浮かべていた。けひひ。
"This is a secret promise between you and me." However, the Fallen Wind Genius didn't nod. "If that's so, then you won't have a place you belong to anymore." That wasn't a promise, but a threat. "East Devil Queen Samael is most suitable to be one of the Four Great Devil Kings and Queens." Her sad gaze deepens. "How does it feel, to even have your hands and feet bounded, after getting your wings ripped?" Even so, the Fallen Wind Genius kept a sad smile. "Kehihi."
---
Ad blocker interference detected!
Wikia is a free-to-use site that makes money from advertising. We have a modified experience for viewers using ad blockers

Wikia is not accessible if you've made further modifications. Remove the custom ad blocker rule(s) and the page will load as expected.