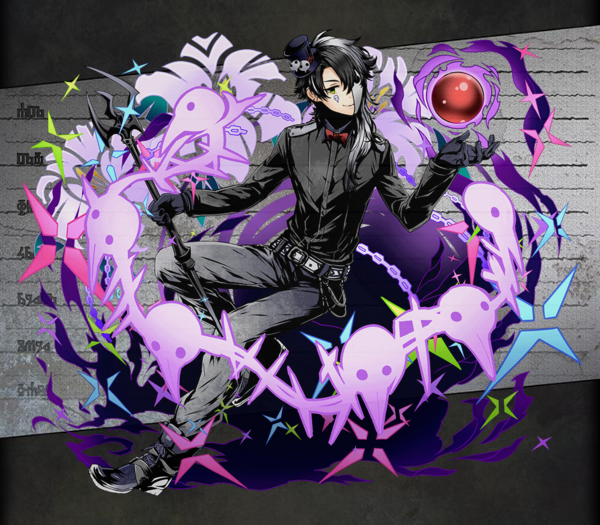 Unit

Name

Loki: Fourth Angel
Attribute
Void
Cost
50
No.
xxx
Rarity
★6
Race
God
Max Lv
99
Basic Stats

Initial HP

724

Final HP

2536
Exp Type
Type 5
Exp Curve
5000000
Initial ATK
658
Final ATK
1481
Fodder Exp
Lv.*275
Price
Lv.*230
Skills
Leader Skill
Name
Trickster
Effect
Increases your attack power by 2.5x when you attack with three different elements.
Active Skill
Name
Remake Hands II
Default Cooldown
6
Min Cooldown
1
Effect
Substitutes your current panels with random ones.
Normal Skill 1
Name
World Pain
Activation
Effect
Extra Large Void damage to a single enemy.
(3.0x ATK)
Normal Skill 2
Name
Lævateinn: Remake
Activation
Effect
Immense Void damage to all enemies.
(3.0x ATK)
Passive Skill
Name
Effect
How to Obtain
Friend Scratch
No
Rare Scratch
No
Other
Dungeon
Neon Genesis Evangelion Collaboration Event
Evolution
Friend Race
Friend Level
Friend Element
Evolution Quest
Link Bonus
{{{link bonus}}}
Link Race Bonus
{{{race bonus}}}
Link Skill
{{{link skill}}}
Link Passive
{{{link passive}}}
Link Material
{{{link material}}}
Link Cost as Base Unit
{{{link cost}}}
Unlink Cost as Base Unit
{{{unlink material}}}
Story
こんな感じかな。ロキが纏ったのは、使徒襲来の始まりを告げる第4の使徒の衣装。少しだけ、暇つぶしに付き合ってもらうよ。無差別にばら撒かれた四つの衣装。そして、その晩、もう一つの世界が生まれていた。それじゃあ始めようか。時は聖暦2015年、悪戯な神の退屈しのぎに、一つの物語が綴られるのだった。
"I guess this is it." What Loki wore was the clothes of the Fourth Angel, that signaled the start of the Angel's attack. "I'll have you people accompany me to kill time, just for a while." Four clothes were distributed indiscriminately. And, that night, another world was born. "Now then, shall we begin?" The time is 2015 of the Holy Age, and this is a story the Mischief God wrote out of boredom.
---
Ad blocker interference detected!
Wikia is a free-to-use site that makes money from advertising. We have a modified experience for viewers using ad blockers

Wikia is not accessible if you've made further modifications. Remove the custom ad blocker rule(s) and the page will load as expected.