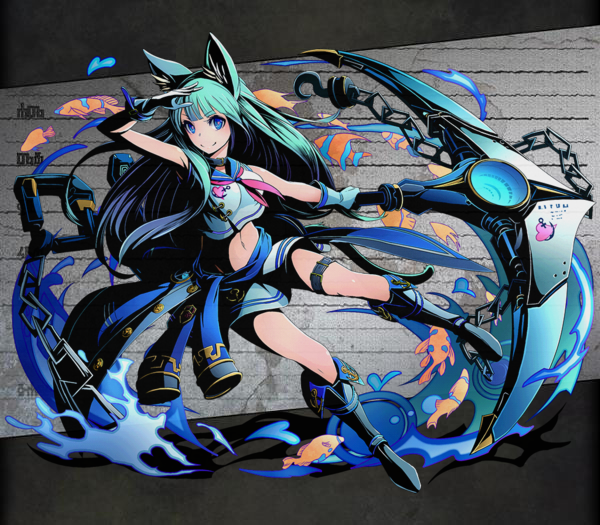 Unit

Name

Stream Beast Marina
Attribute
Water
Cost
50
No.
1323
Rarity
★6
Race
Beast
Max Lv
50
Basic Stats

Initial HP

1494

Final HP

3363
Exp Type
Type 5
Exp Curve
5000000
Initial ATK
1098
Final ATK
2965
Fodder Exp
Lv.*630
Price
Lv.*420
Skills
Leader Skill
Name
Beast Rise: Shift III
Effect
2.5x HP/ATK to Beast units.
Active Skill
Name
Defect Blue
Default Cooldown
50
Min Cooldown
20
Effect
HP becomes 1 and deals Water type damage equal to 80x user's ATK to all enemies. In addition, the duration of your next turn is extended by 5 seconds. (Maximum: 9 extra seconds)
Normal Skill 1
Name
Anchor: Second
Activation
Effect
Extra Large Water damage to a single enemy.
(3.0x ATK)
Normal Skill 2
Name
Activation
Effect
Passive Skill
Name
Minus One
Effect
Reduces hands count by one. (Minimum: 1 second)
How to Obtain
Friend Scratch
No
Rare Scratch
No
Other
Evolved from Marina
Dungeon
Evolution
Friend Race
Friend Level
Friend Element
Evolution Quest
Any
Lv.40+
Water
Trial of Water: Holy Class (水の試練: 聖級)
Link Bonus
Min Lv.: HP+242 ATK+0


Max Lv.: HP+932 ATK+0

Link Race Bonus
HP+250 Critical ATK+10%
Link Skill
{{{link skill}}}
Link Passive
Link Shield: Aqua
Water Damage received is reduced by 4%
Link Material
Link Cost as Base Unit
282936
Unlink Cost as Base Unit
16976
Story
あなた様は気付いていたんでしょう。ご両親の歪んだ愛情に。出来の悪い兄と、出来の良い弟。虐待される兄と、優遇される弟。だから弟様は。ただ、気付いていないことが、一つだけ残っているんです。続く一人言を遮る一言。君は誰だ。わたくしは、水先案内人です。誰の差し金だ。それはまだ、言わない約束です。
"Surely you have realized, that your parents' love was twisted. A failure of an older brother and a successful younger brother. An abused older brother and favored younger brother. "This is why your younger brother is as he is now. However, there is still one thing you have yet realize..." A sentence interrupted her soliloquy. "Who are you?" "I will be the one to guide you." "Who sent you?" "That is something I promised not to say yet."
---
Ad blocker interference detected!
Wikia is a free-to-use site that makes money from advertising. We have a modified experience for viewers using ad blockers

Wikia is not accessible if you've made further modifications. Remove the custom ad blocker rule(s) and the page will load as expected.