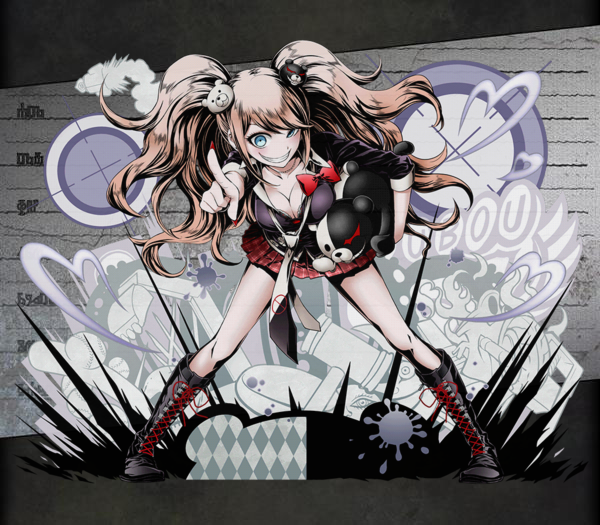 Unit

Name

Enoshima Junko
Attribute
Void
Cost
30
No.
1294
Rarity
★6
Race
Human
Max Lv
99
Basic Stats

Initial HP

560

Final HP

2241
Exp Type
Type 5
Exp Curve
5000000
Initial ATK
504
Final ATK
2522
Fodder Exp
Lv*275
Price
Lv*230
Skills
Leader Skill
Name
Ultimate Despair
Effect
2x HP/ATK to Void type units.
Active Skill
Name
Hopelessly Happy!
Default Cooldown
20
Min Cooldown
3
Effect
Deals Void type damage equal to 15x user's ATK to all enemies and for two turns Active Skills are sealed.
Normal Skill 1
Name
JUNKO ENOSHIMAAA!!
Activation
Effect
Super Extra Large Void damage to a single enemy.
(4.5x ATK)
Normal Skill 2
Name
Despair is only for...Pleasure
Activation
Effect
Super-Extra Large Void damage to all enemies.
(2.8x ATK)


BOOST: All Panels become Void panels.

Passive Skill
Name
Effect
How to Obtain
Friend Scratch
No
Rare Scratch
No
Other
Dungeon
Dangan Ronpa Collaboration Event
Evolution
Friend Race
Friend Level
Friend Element
Evolution Quest
Link Bonus
Min Lv.: HP+88 ATK+66


Max Lv.: HP+341 ATK+256

Link Race Bonus
HP+250 ATK+5%
Link Skill
{{{link skill}}}
Link Passive
Link Triple Assault
When attacking with three attributes or more in the same turn,
the unit's attack is increased by 1.5x
Link Material
Link Cost as Base Unit
170961
Unlink Cost as Base Unit
10257
Story
希望ヶ峰学園に現れた不思議な扉。江ノ島盾子はこれを面白いと感じた。コロシアイよりも絶望できるものがあるかもしれない。その扉からもっと希望を育み、最高の絶望をつくれるかもしれない。良いです、最高に良いです。白黒のぬいぐるみを抱きしめ、悦に浸る。うぷぷ、ワックワクでドッキドキの扉の先だよね。
In Hope's Peak Academy School a mysterious door appeared. Junko Enoshima found this intriguing. It might be the key to a despair even bigger than the mutual killings. As the door fosters hope, it might also be able to create the greatest despair. "It's brilliant, the best!" Hugging the black and white stuffed bear, she was overwhelmed with joy. "Upupupuu, let's go beyond the door, our hearts beating with excitement!"
---
Ad blocker interference detected!
Wikia is a free-to-use site that makes money from advertising. We have a modified experience for viewers using ad blockers

Wikia is not accessible if you've made further modifications. Remove the custom ad blocker rule(s) and the page will load as expected.