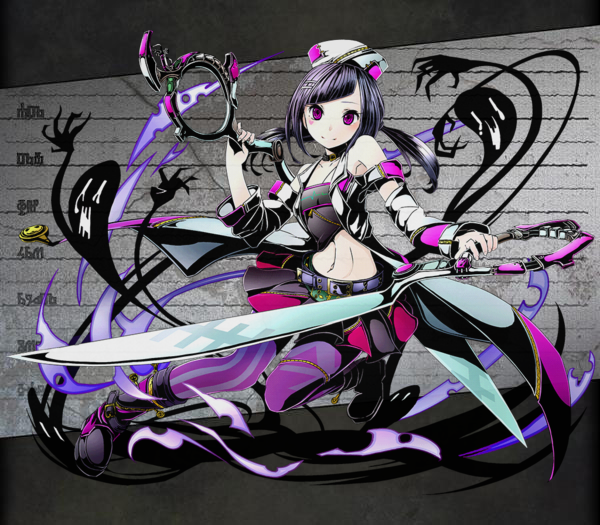 Unit

Name

Death Doctor Necros
Attribute
Dark
Cost
50
No.
1062
Rarity
★6
Race
Human/God
Max Lv
99
Basic Stats

Initial HP

1206

Final HP

2715
Exp Type
Type 5
Exp Curve
5000000
Initial ATK
930
Final ATK
2511
Fodder Exp
Lv.*630
Price
Lv.*420
Skills
Leader Skill
Name
God Rise: Shift III
Effect
2.5x HP/ATK to God type units.
Active Skill
Name
Anesthesia
Default Cooldown
26
Min Cooldown
11
Effect
For 10 turns the enemies' defense is reduced by 80%, and attack is reduced to 85%. In addition, enemy is poisoned for 10 turns.
Normal Skill 1
Name
Death: Scissors
Activation
Effect
Dark damage to a single enemy.
(1.6x ATK)
Normal Skill 2
Name
Operation: Revive
Activation
Effect
Immense Dark damage to all enemies. (CRT+44%)
(3.0x ATK)
Passive Skill
Name
Effect
How to Obtain
Friend Scratch
No
Rare Scratch
No
Other
Evolved from Necros
Dungeon
Evolution
Friend Race
Friend Level
Friend Element
Evolution Quest
Link Bonus
Min Lv.: HP+0 ATK+121


Max Lv.: HP+0 ATK+466

Link Race Bonus
HP+150 ATK+3%
Critical ATK+12%
Link Skill
{{{link skill}}}
Link Passive
Link Shield: Dark
Decreases Dark damage received by 5%.
Link Material
Link Cost as Base Unit
282936
Unlink Cost as Base Unit
16976
Story
死医者ネクロスの元に届けられたのは綺麗な顔をした男だった。そして、添えられていた一通の手紙。彼は魔物かしら。だが少し様子が違っていた。もしかしたら、竜なのかしら。ただ、そんなことは彼女にとってどうでもよかった。そして、この時彼女が蘇らせた男が、聖戦に必要不可欠な最後の欠片となるのだった。
A man with a beautiful face was delivered to Death Doctor Necros, with a letter attached. "I wonder if he's a demon." But he looked quite different from one. "Perhaps he's a dragon." However, to her either was fine. The man she is going to resurrect will become the final essential piece in the Holy War.
---
Ad blocker interference detected!
Wikia is a free-to-use site that makes money from advertising. We have a modified experience for viewers using ad blockers

Wikia is not accessible if you've made further modifications. Remove the custom ad blocker rule(s) and the page will load as expected.