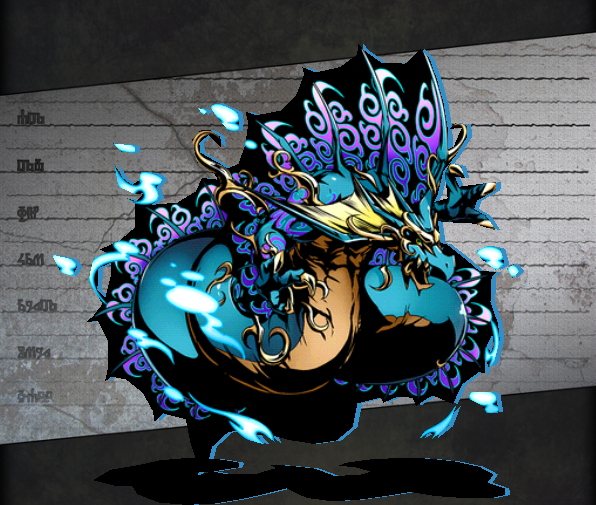 Unit

Name

Hrotti: Proto
Attribute
Water
Cost
15
No.
032
Rarity
★5
Race
Dragon
Max Lv
99
Basic Stats

Initial HP

1232

Final HP

2562
Exp Type
Type 5
Exp Curve
5000000
Initial ATK
710
Final ATK
1143
Fodder Exp
Lv.*500
Price
Lv.*300
Skills
Leader Skill
Name
Guard: Aqua II
Effect
Damage received from water attribute units is reduced by 50%
Active Skill
Name
Blizzard Breath
Default Cooldown
23
Min Cooldown
15
Effect
Deals 10000 water damage to all enemies. Affected by enemy element and defense.
Normal Skill 1
Name
Aqua Blow
Activation
Effect
Water damage to a single enemy.
(1.6x ATK)
Normal Skill 2
Name
Aqua Storm
Activation
Effect
Extra Large Water damage to all enemies.
(2.5x ATK)
Passive Skill
Name
Effect
How to Obtain
Friend Scratch
No
Rare Scratch
No
Other
Evolved from Hrotti
Dungeon
Evolution
Friend Race
Friend Level
Friend Element
Evolution Quest
Link Bonus
Min Lv.: HP+149 ATK+0


Max Lv.: HP+575 ATK+0

Link Race Bonus
BOOST ATK+12%
Link Skill
{{{link skill}}}
Link Passive
Link Shield: Aqua
Water Damage received is reduced by 4%
Link Material
Link Cost as Base Unit
9531
Unlink Cost as Base Unit
476
Story
進化を遂げた深海の刃【フロッティ】の共鳴<リンク>は母なる海そのものへと。清らかな水の流れが、激しい海流へと飲み込まれると共に地上へ見せた姿、それは自然を生きる生物としてではなく、戦う為に生まれたかの様な姿。その獰猛な姿は、他のドラゴン同様、解放せし者の訪れと最悪の展開を予感させた。
The great ocean itself was the resonance <Link> of the evolved [Hrotti], blade of the deep sea. Emerging on land in a burst of violent sea eddies that engulfed the previously serene waves, the form it revealed was not that of a creature of nature, but of a life form who's sole purpose was to fight. Its ferocious appearance, along with the other dragons, alluded to the coming of the One Who Liberates, and represented the worst possible turn of events.
---
Ad blocker interference detected!
Wikia is a free-to-use site that makes money from advertising. We have a modified experience for viewers using ad blockers

Wikia is not accessible if you've made further modifications. Remove the custom ad blocker rule(s) and the page will load as expected.