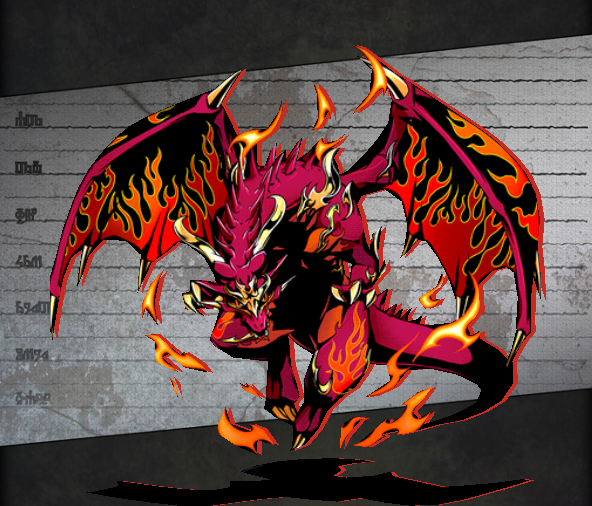 Unit

Name

Lævateinn: Proto
Attribute
Fire
Cost
15
No.
028
Rarity
★5
Race
Dragon
Max Lv
99
Basic Stats

Initial HP

1138

Final HP

2384
Exp Type
Type 5
Exp Curve
5000000
Initial ATK
759
Final ATK
1145
Fodder Exp
Lv.*500
Price
Lv.*300
Skills
Leader Skill
Name
Guard: Fire II
Effect
Damage received from fire attribute units is reduced by 50%
Active Skill
Name
Magma Breath
Default Cooldown
23
Min Cooldown
15
Effect
Deals 10000 fire damage to all enemies. Affected by enemy element and defense.
Normal Skill 1
Name
Fire Blow
Activation
Effect
Fire damage to a single enemy.
(1.6x ATK)
Normal Skill 2
Name
Fire Rush
Activation
Effect
Extra Large Fire damage to all enemies.
(2.5x ATK)
Passive Skill
Name
Effect
How to Obtain
Friend Scratch
No
Rare Scratch
No
Other
Evolved from Lævateinn
Dungeon
Evolution
Friend Race
Friend Level
Friend Element
Evolution Quest
Link Bonus
Min Lv.: HP+29 ATK+59


Max Lv.: HP+115 ATK+230

Link Race Bonus
BOOST ATK+12%
Link Skill
{{{link skill}}}
Link Passive
Link Shield: Fire
Fire Damage received is reduced by 4%
Link Material
Link Cost as Base Unit
9531
Unlink Cost as Base Unit
476
Story
ドラゴンの力はやがて、解放せし者に握られる。それこそが炎のドラゴン【レーヴァティン】がこの統合世界<ユナイティリア>に産み落とされた理由。裏切りの刃は神々の悪戯に向けられるのか、約束された未来を壊す為に向けられるのか。今はただ、審判の日へ、その姿を変えながら、灼熱の炎を燃やし続けた。
And so it came to be that the dragon's power fell firmly under the control of the ones who released it. That was their true motive for bringing the Flame Dragon [Lævateinn] to life in the Merged World <Unitilia>. Were those treacherous blades brandished as part of a divine prank? Or as something to destroy the Promised Future? For now, the dragon merely awaited the Day of Judgement, changing its form and stoking its scorching flames.
---
Ad blocker interference detected!
Wikia is a free-to-use site that makes money from advertising. We have a modified experience for viewers using ad blockers

Wikia is not accessible if you've made further modifications. Remove the custom ad blocker rule(s) and the page will load as expected.