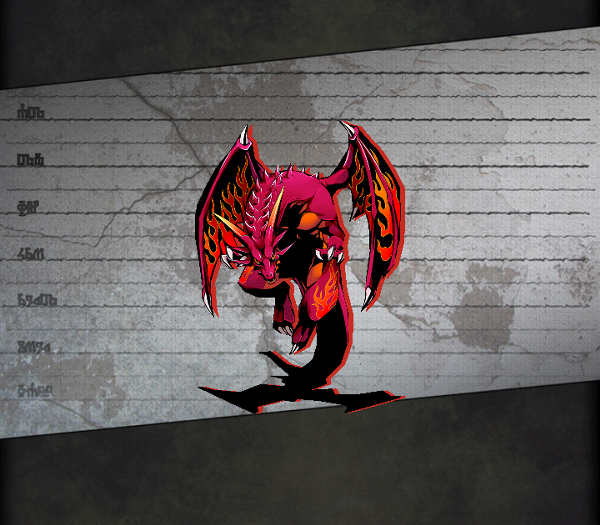 Unit

Name

Lævateinn
Attribute
Fire
Cost
11
No.
027
Rarity
★5
Race
Dragon
Max Lv
70
Basic Stats

Initial HP

441

Final HP

1414
Exp Type
Type 3
Exp Curve
779937
Initial ATK
276
Final ATK
766
Fodder Exp
Lv.*300
Price
Lv.*150
Skills
Leader Skill
Name
Guard: Fire
Effect
Damage received from fire attribute units is reduced by 25%
Active Skill
Name
Flame Breath
Default Cooldown
38
Min Cooldown
25
Effect
Deals 3000 fire damage to all enemies. Affected by enemy element and defense.
Normal Skill 1
Name
Fire Ball
Activation
Effect
Small Fire damage to a single enemy.
(1.0x ATK)
Normal Skill 2
Name
Fire Rush
Activation
Effect
Fire damage to all enemies.
(1.6x ATK)
Passive Skill
Name
Effect
How to Obtain
Friend Scratch
No
Rare Scratch
No
Other
Evolved from Lævan
Dungeon
Evolution
Friend Race
Friend Level
Friend Element
Evolution Quest
Any
Lv.25+
Fire
Trial of Fire: Legend (炎の試練: 神級)
Link Bonus
Min Lv.: HP+29 ATK+58


Max Lv.: HP+87 ATK+174

Link Race Bonus
BOOST ATK+12%
Link Skill
{{{link skill}}}
Link Passive
{{{link passive}}}
Link Material
Link Cost as Base Unit
7656
Unlink Cost as Base Unit
382
Story
炎と炎の共鳴<リンク>は更なる姿、レーヴァティンへと。吐き出された炎は刃となり、人々へ襲いかかる。偶然にもドラゴンが産み落とされた統合世界<ユナイティリア>で生きていくには少し大きくなりすぎた体。そして現れる、その持て余した力を解放する者。約束された未来に、君臨するのは人間かドラゴンか。
Spurred on by the <Link> of resonating fire and flames, the dragon developed further, and became Lævateinn. The fire it belched became blades, which fell upon everyone alike. As it was, the dragon had slightly outgrown its incidental birthplace, the Merged World <Unitilia>. And before it, appeared one who could provide a release for its pent-up power. Humans or Dragons - Who would be the ones to reign at the end of the Promised Future?
---
Ad blocker interference detected!
Wikia is a free-to-use site that makes money from advertising. We have a modified experience for viewers using ad blockers

Wikia is not accessible if you've made further modifications. Remove the custom ad blocker rule(s) and the page will load as expected.