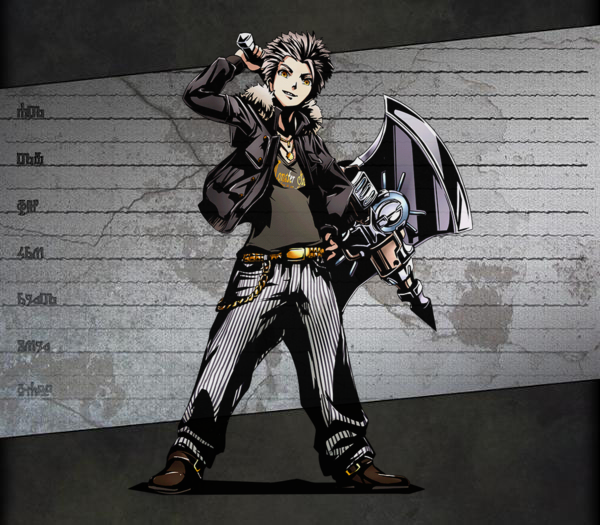 Unit

Name

Axe-Wielder Ginji
Attribute
Void
Cost
4
No.
022
Rarity
★4
Race
Human
Max Lv
15
Basic Stats

Initial HP

124

Final HP

501
Exp Type
Type 3
Exp Curve
14463
Initial ATK
67
Final ATK
224
Fodder Exp
Lv*175
Price
Lv*100
Skills
Leader Skill
Name
None Rise: Assault
Effect
1.5x ATK for Void type units.
Active Skill
Name
None Impact
Default Cooldown
15
Min Cooldown
10
Effect
Deal Void type damage equal to 3x user's ATK to all enemies. Affected by enemy element and defense.
Normal Skill 1
Name
Yashahime : Nishiki
Activation
Effect
Void damage to a single enemy.
(1.6x ATK)
Normal Skill 2
Name
Struggle Vain
Activation
Effect
Small Void damage to all enemies.
(1.0x ATK)
Passive Skill
Name
Effect
How to Obtain
Friend Scratch
Yes
Rare Scratch
No
Other
Evolved from Ginji
Dungeon
Evolution
Friend Race
Friend Level
Friend Element
Evolution Quest
Any
Lv.10+
Void
Trial of Void: Master (無の試練: 超級)
Link Bonus
Min Lv.: HP+36 ATK+27


Max Lv.: HP+51 ATK+38

Link Race Bonus
HP+150 ATK+3%
Link Skill
{{{link skill}}}
Link Passive
{{{link passive}}}
Link Material
Link Cost as Base Unit
2184
Unlink Cost as Base Unit
87
Story
力を増した【ヤシャヒメ:弐式】を手に暴れ倒す。全てを、交わった世界を無に帰す為に。このまま全て、無くなってしまえばいい。手にした「無」の力に酔い しれるがまま破壊を繰り返すギンジ。それが、その力が生まれた理由であるかの様に。無を求めるが故の、無による衝動は、全てを無に帰すまで終わらない。
With the strengthened [Yashahime: Nishiki] in hand, Ginji ran wild. Thinking that everything should just disappear, he sought to return the merged worlds, all of it to nothingness. Drunk on the power of "Void" that he had acquired, he left in his wake a trail of destruction, as if it were the sole reason for that power's existence. Wrought from his desire for nothingness, these impulses would continue until everything was no more.
Trivia
He ranked 28th and 35th in the 5th and 6th official Divine Gate popularity polls.
He is a high school student.
His favorite food is ginkgo nuts.
He has an older and younger brother, Kinichi and Dōzō. While these names are tentative, all three mean gold (Kinichi), silver (Ginji), and bronze (Dōzō).
His homeland is the Far East Country, Japonesia. [1]
His fashion is vulgar domestic brands. [2]
He fell in love with Tokiwa before realising that Tokiwa was male.
[Divine Academy] Ginji profile: A young boy who transferred over from the school in the neighboring street. Although his personality is like a delinquent's, somehow old folks always asks him for directions. It seems like he is experiencing a forbidden love that he cannot tell anyone about. [3]
Gallery
---
Ad blocker interference detected!
Wikia is a free-to-use site that makes money from advertising. We have a modified experience for viewers using ad blockers

Wikia is not accessible if you've made further modifications. Remove the custom ad blocker rule(s) and the page will load as expected.