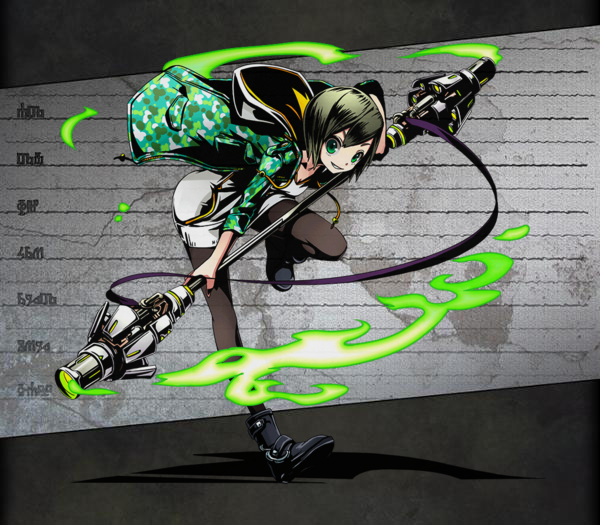 Unit

Name

Midori, Staff Wielder of the Wind
Attribute
Wind
Cost
6
No.
011
Rarity
★5
Race
Human
Max Lv
35
Basic Stats

Initial HP

447

Final HP

1317
Exp Type
Type 3
Exp Curve
132934
Initial ATK
191
Final ATK
770
Fodder Exp
Lv*350
Price
Lv*150
Skills
Leader Skill
Name
Wind Rise: Assault
Effect
1.5x ATK for Wind type units.
Active Skill
Name
Blast Raid
Default Cooldown
23
Min Cooldown
8
Effect
Deal Wind type damage equal to 10x user's ATK to all enemies. Affected by enemy element and defense.
Normal Skill 1
Name
San: Fonshen
Activation
Effect
Large Wind damage to a single enemy.
(2.3x ATK)
Normal Skill 2
Name
Aerial Drive
Activation
Effect
Wind damage to all enemies.
(1.6x ATK)
Passive Skill
Name
Effect
How to Obtain
Friend Scratch
No
Rare Scratch
No
Other
Evolved from Staff-Wielder Midori
Dungeon
Evolution
Friend Race
Friend Level
Friend Element
Evolution Quest
Any
Lv.25+
Wind
Trial of Wind: Legend (風の試練: 神級)
Link Bonus
Min Lv.: HP+84 ATK+28


Max Lv.: HP+167 ATK+55

Link Race Bonus
HP+200 ATK+4%
Link Skill
{{{link skill}}}
Link Passive
{{{link passive}}}
Link Material
Link Cost as Base Unit
5312
Unlink Cost as Base Unit
265
Story
大きな風を巻き起こす新たなドライバ【サン:フォンシェン】を手に、ひとり先に常界<テラスティア>へと向かったミドリ。そう、気付いてしまった約束され た未来を変える為、誰よりも早く駆け出した。けれどその想いは焦りとなり、浮き足立つ心。地に足をつけることを忘れた彼女の前に、静けさの後の嵐が訪れる。
With her new driver 【San: Fonshen】 in hand kicking up large gusts, Midori set out by herself for the Common World, <Terrastia>. Having caught wind of the Promised Future, she took off before anyone else to change it. Those thoughts however, became hurried, and her heart was filled with anxiety. Following the calm, a storm decended before the girl who had forgotten to keep her feet grounded.
Trivia
She ranked 8th, 21st, 16th, 23rd, 5th, 13th, and 8th consecutively in the seven official Divine Gate popularity polls.
She is a high school student.
Her cup size is C.
Her favorite food is cucumber.
In the Princess Punt Collaboration Event she is shown to use her driver [Fonshen] as a makeshift "helicopter".
Gallery
---