Home
Talk

0
1,538pages on
this wiki
Welcome to the Divine Gate Wiki
Edit
English Wiki for the JP mobile game Divine Gate by Acquire Co. and Gungho Online Entertainment. It was released on September 30th, 2013 for Android users. The iOS version was released on October 10th, 2013. Check out the Getting Started page. It has the current version and things to get you in. If you haven't already, check out the announcement video on Youtube!
Rare Scratch Bonus Rates
Edit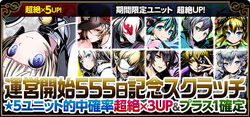 03/26/15 19:00 ~ 04/05/15 18:59
Tama arrives at 5x rate! Other Limited Units also available at 1.5x rate (*Johan 1x Rate). Other ☆5 Units available at 2x rate. All units pulled will be +1.
*Machine Dragon, Machine Girl, and Imprisoned Beast series are unobtainable until further notice.

Limited Units